NBA Playoff Betting Tips: Game 3

The opening week of this NBA Playoffs is averaging 4.15 million viewers per game, the most in 12 years, and this tells the story of how intense and entertaining this opening round has been. The Warriors core of Curry, Thompson and Green find themselves 2-0 down for the first time in their careers while the Suns and Clippers has been so tense, you would be forgiven if you thought it was a conference final. We break down a few Game 3 matchups heading into the weekend, but before we delve into these games, head to our Cross Sport Specials page to check out some of the special offers we have. You can also read about our new feature; the Pick 11 Jackpot Bet here.
BetKing also offers Daily Specials with boosted odds, which you can find here. You can bookmark these pages and visit every morning for new and enhanced specials.
---
Golden State Warriors vs. Sacramento Kings (0 – 2)
The reigning Champions, Golden State Warriors, find themselves in unfamiliar territory as they trail 2-0 to the Sacramento Kings who are making their first playoff appearance since 2006. The last time the Warriors found themselves 2-0 down in a playoff series, Steph Curry was wrapping up his freshman year at Davidson College while Klay Thompson and Draymond Green were still in high school. Historically, of the 442 times teams have been down 2-0 in the playoffs, only on 32 occasions have they successfully turned the series around, and while it's not impossible, the likelihood is slim. The last time the Warriors overcame a 2-0 deficit was back in 1987 and even that was a 5-game series. With Draymond Green handed a 1-game suspension for Game 3, Steph Curry and his teammates have a bigger task on their hands.
The drama surrounding Draymond Green's suspension for a stomp on Domantas Sabonis has sadly taken the spotlight off the brilliant basketball we've been treated to by the Kings. Led by recently crowned Clutch Player of the Year, De'Aaron Fox, the Kings' offense have matched the scoring of this legendary Warriors group. Fox scored 194 clutch points this season, shooting 53% FG and 32% from 3-point in that period and has hit 3 game winning shots. So far in this series, he's lived up to his regular season performance by not only providing crucial offense for the Kings but also doing the dirty work on offense by helping nullify Steph Curry as a threat. It also helps that Kings' Head Coach and recently crowned Coach of the Year, Mike Brown had been with the Kings for almost the entirety of their dynasty (2016-2022) and so, was well-equipped to identify holes in their games.
Draymond Green's absence could be as costly as his 2016 suspension when the Warriors famously blew a 3-1 lead to LeBron James & the Cleveland Cavaliers. Green is not only Warriors' best defender but one of the best in the league. The two other top defenders on the Warriors roster – Andrew Wiggins & Gary Payton II – have barely played in recent months and have some rust to shake off. Draymond Green is also an integral part of the Warriors' offense as he helps bring the ball up the court while setting up his shooters and providing screens for them. While Steph Curry can create his own shot, Klay Thompson, Donte DiVincenzo and Jordan Poole could struggle with this in his absence. This season, the Warriors have won 56.2% of their games with Green and just 33.3% without him. It's hard to imagine the reigning champions being down 3-0 in the first round, but when it rains, it pours and the Warriors don't seem to have an umbrella right now.
Predictions:
---
Los Angeles Clippers vs. Phoenix Suns (1 – 1)
The Phoenix Suns avoided going 2-0 down at home with a 123-109 victory on Tuesday night, but the Clippers will be happy, having split the games and doing so without Paul George who remains out for the series. The Clippers won a very intense Game 1, thanks to a Kawhi Leonard's performance as well as Russell Westbrook's, who may have had a poor shooting game but found other ways to influence the game. In Game 2, however, it was the Suns' players – specifically their starters – that imposed their will on the game. Devin Booker had a game high 38-points while Kevin Durant had 25pts. Deandre Ayton had a double-double and veteran Point Guard Chris Paul – who until Tuesday night had lost 13-straight playoff games officiated by Scott Foster – had 16/4/8 including 8 points, 2 assists, and 1 steal in the 4th quarter.
On Friday, these two will once again go head-to-head in Game 3 and the Suns will be the more aggressive side as they aim to reclaim the game they dropped at home. The Suns admitted they were caught off guard with the Clippers' matchups, something their Head Coach, Monty Williams echoed: "They had some weird lineups out there, weird matchups, and we just didn't identify it fast enough on the fly. That's on me to get us in those spots to take advantage of it."
They made those adjustments in Game 2 which included leaning heavily on their starting lineup. While the Suns played an 11-man rotation in Game 1, 5 of the 6 bench players in Game 2 played fewer than 8 minutes as they combined for just 13 points. The Suns were down 13-points with 5:30 left to play in the 2nd quarter but a 13-4 run, led by Durant, helped reduce the deficit. Clippers' Head Coach, Ty Lue, is one of the best tacticians in the league and will be disappointed to have given up such a lead but, getting it against a very efficient Suns teams only proves his brilliance. Heading to Los Angeles on Friday night, he'll likely spring up another tactical surprise for the Suns and this time, holding on could be the difference.
Predictions:
---
Los Angeles Lakers vs. Memphis Grizzlies (1 – 1)
The Memphis Grizzlies bounced back from a Game 1 loss with a 103-93 win on Wednesday night and intensity was their watchword for the game. All-Star Point Guard, Ja Morant missed the game with an injury to his right hand following an awkward landing in Game 1, but his teammates powered on without him. The Grizzlies, who were already thin due to injuries to key players, were battle ready from the tip-off and maintained their aggressive approach for all 4-quarters, holding a 20-point lead in the 3rd quarter. Lakers' Power Forward, Anthony Davis was the most targeted player by the Grizzlies, and he finished with just 13 points on 4-of-14 shooting. The intensity spilled over to the post-game interviews when Memphis' Dillon Brooks had dismissive/insulting words for LeBron James following their mini back-and-forth during the game. "I don't care. He's old. He wanted to say something after I got my fourth foul, he should have been saying that earlier on. I poke bears. I don't respect anyone until they come and give me 40." Brooks said, "When I'm on that floor, you're just another player to me. I don't care who you are. You're just 6-8, 270 pounds, and you're a basketball player."
These words have set the tone for Saturday night's Game 3 in Los Angeles as the Memphis aim to steal a game from the Lakers. The game would first be the Lakers' first home playoff game in front of a full-capacity crowd in Los Angeles since 2013, and you can bet the crowd will be rocking. So far in this series, the Lakers' role players – mainly Austin Reaves and Rui Hachimura – have been consistent in their production and with an improved performance from Anthony Davis, they should take Game 3. While the Memphis boys were impressive in Game 2, they'll hope to have Ja Morant back in the squad. At certain points early in the 4th quarter, their offense stalled, and they went over 6 mins without a Field Goal. Dry spells like that will be punished in Game 3 in Los Angeles and, if Morant is absent, we could see that.
Predictions:
---
Miami Heat vs. Milwaukee Bucks (1 – 1)
Bucks' Game 1 loss was perhaps the most surprising result in the league, but that could be excused after the early  injury to Giannis Antetokounmpo. In Game 2, the Bucks avoided the same mistakes from Game 1, and they blitzed the Heat in the opening half in which they led 81-55. The Bucks led by as many as 36 points in the 3rd quarter, and it took the Heat outscoring the Bucks 37-20 in the 4th quarter – mainly in garbage time – to make the final score respectable.
The Bucks shot 51% from 3pt, making 25 of their 49 attempts, as they tied an NBA post-season record for made 3s. Pat Connaughton, who was absent in Game 1, enjoyed a career day as he shot 6-10 from 3s, grabbing a playoff career-high 22 points. Joe Ingles scored 17 points for the Bucks and was 5 of 6 from beyond the arc. Khris Middleton and Grayson Allen added 16 points apiece while 6th Man of the Year candidate, Bobby Portis had 13 points and 15 rebounds. With Giannis Antetokounmpo's expected return in Game 3, the Bucks are expected to maintain this momentum and grab a win in Miami this weekend.
The Heat's carelessness with the ball was their undoing as they turned the ball over 17 times and the Bucks wasted no time in capitalizing on this. The biggest blow to the Heat, however, is the absence of Tyler Herro. The 13th overall pick from 2019 is averaging 20.1 points this season and is set to undergo a surgery to his hand follwoing his injury from game 1 which will keep him out until the NBA finals. As bizarre as this may sound, in this series, Herro is more valuable to the Heat than Antetokounmpo is to the Bucks and his absence could very well spell the end of their playoff hopes.
Predictions:
---
Atlanta Hawks vs. Boston Celtics (0 – 2)
The Celtics are 2 consecutive wins away from their 4th opening round sweep in 5 years and after that performance on Tuesday night, very few can bet against that. It was always a matter of when (and not if) the defending Eastern Conference champions would get rid of the Hawks, and it's looking like this series could be done by Monday. For the Celtics, though, the most impressive thing about their Game 2 win must have been how they claimed victory. This season, they've morphed into a high-volume 3-point shooting team and while that has worked for them, they've looked horrible when their  shots don't fall. On Tuesday, however, they dominated the paint, and the Hawks struggled to keep up with them. Their 64 points in the paint was their most in a playoff game in the last 25 seasons and presented a blueprint for future games in which their shooting might fail them.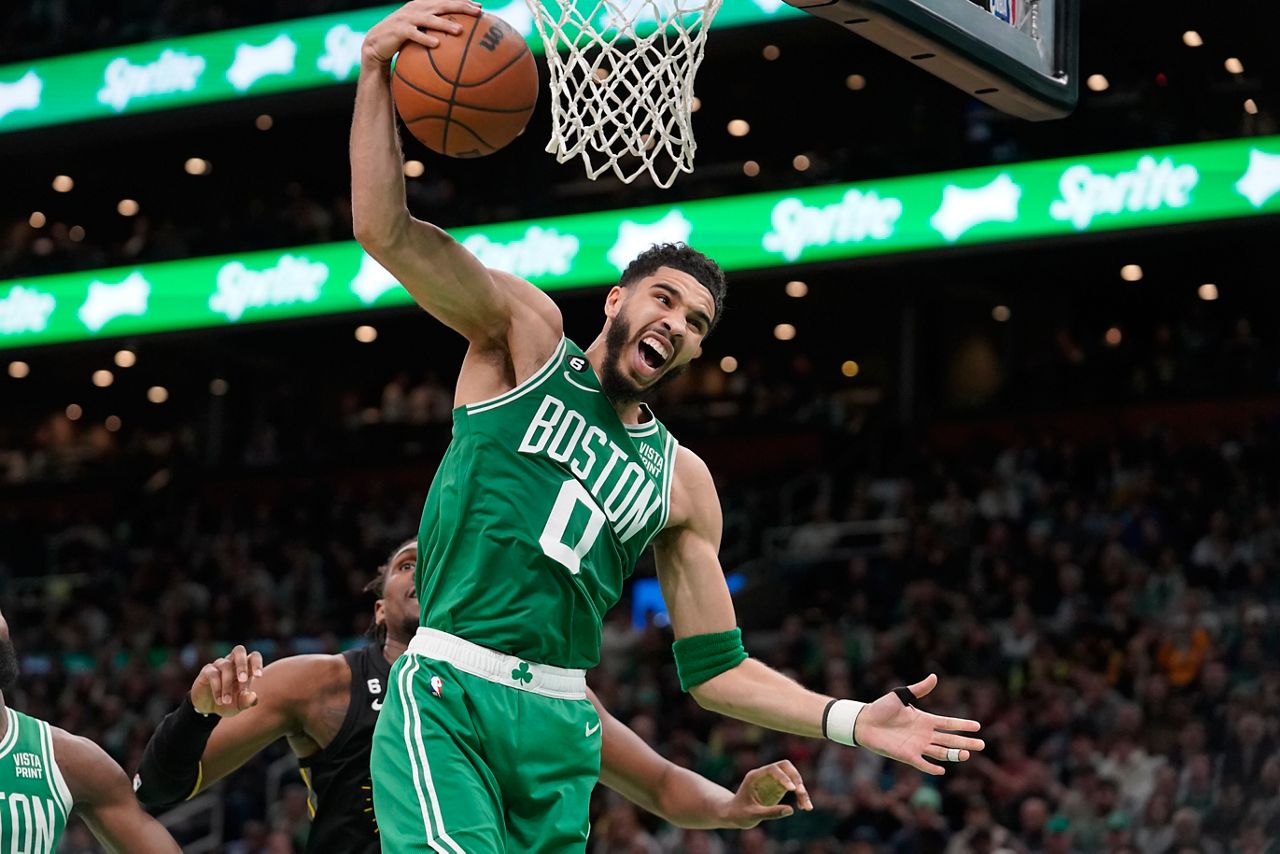 Defensively, the Celtics have expectedly held up well against the Hawks as well. In Game 1, the Hawks missed 60 shots and in Game 2, they missed 58. While their offensive rebounds went up significantly over those two games, it was mostly down to the sheer volume of missed shots. Star Point Guard, Trae Young shot 5-18 in Game 1 and 9-22 in Game 2 while John Collins who had a decent 5-7 shooting in Game 1 suffered a massive slump in Game 2 as he went 2-11.
The Celtics are the first team in over 2 decades to rank in the top 3 of both the Offensive and Defensive Rating in the NBA and the Hawks are finding this out the hard way. One key to Celtics dominance in this series has been an often overlooked Guard, Derrick White. He's averaging 25 points on 60% shooting in the two games, having dishing out 7 assists in Game 1, and defensively, he's been equally impactful with 5 blocks in across both games while averaging 6 rebounds. The Hawks are 0-20 all time when trailing 2-0 in a Best-of-7 series, and it looks like the Celtics might run through them.
Predictions:
Must See
Everything You Need to Know About SuperPicks! SuperPicks is a platform that combines the...

To all sports betting enthusiasts, welcome back to another weekend of the most amazing...